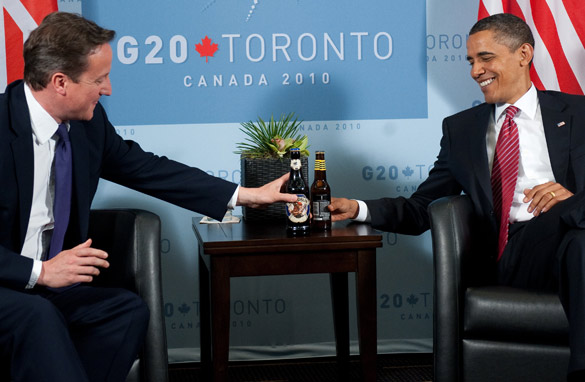 President Obama and British Prime Minister David Cameron kept their word Saturday and fulfilled a recent bet made on the World Cup match between the United States and England.
The wager, made two weeks earlier, had the leader of the losing country owing beer to the leader of the winning country. But the two teams tied so both men brought beers to the summit and exchanged the items during their bilateral meeting.
Obama presented Cameron with Goose Island 312 beer from Chicago while Cameron gave the President 5.2 percent Hobb Goblin beer.
After clinking bottles, both men made statements reaffirming the "special relationship" between the two countries.
Later in the day, Prime Minister Cameron hitched a ride in Marine One yesterday after fog grounded his own chopper.